Wool Peddler In Progress
I finished up the garter stitch center of the Wool Peddler shawl on Saturday and started in on the lace border Sunday night. This is how far I got: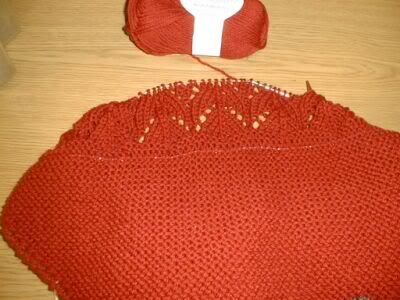 I didn't work on it last night because I can't decide if I should frog to correct this mistake: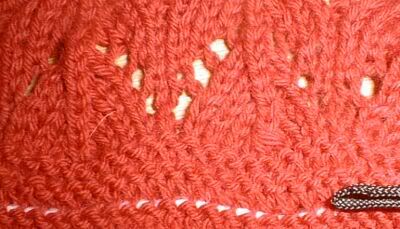 See it there in the repeat on the right, just above the end of the camera strap? I was shy one stitch on the right side of the repeat when I got to the 6th row and thought I could just add a stitch in without it being too obvious. Now I don't know. Maybe it wouldn't be noticable once the border is completed, but I know that it's there and it's bothering me. The old "blind man on a galloping horse at midnight" theory doesn't seem to be working. An additional concern is that I swatched a lace design very close to this one last week before my KnitPicks order arrived.
The first two repeats use the [slip 1, k2tog, psso] two stitch decrease called for in this Horseshoe lace pattern from the Elann site and in the Wool Peddler pattern. The last repeat, I tried a centered decrease of [slip 2 together as if to knit, k1, psso] that I use when I'm decreasing at the bottom of ribbing for a V neck sweater. At the time, I thought that I liked it better than the off-centered decrease that was in the pattern, but now that I'm working with the Iron Ore yarn and the line continues up through another pattern, I'm not so sure. I hate the idea of frogging back to the set up row and going through getting the lace rows started again, but will I be happy with the finished shawl if I don't? Opinions welcomed.