And The Winner Is.............
Starting yesterday, I am no longer able to claim that I never win anything. Ok, back in high school I did win the Cherry Pie Baking Contest, but I didn't mean to - I only entered to provide moral support for my friend Carolyn who wanted to enter and I only won because our family pie crust recipe which was handed down from my Great-grandmother (and perhaps from her mother)is *awesome*. Anyway, to get back to the present, on Saturday we took a short break from garage sales to attend the Flower Festival in the village and after wandering around admiring the plants & the art, we - as we do every year - filled out the little slips for the door prizes. Yesterday, when I came home from taking Mom to bingo, the Downtown Development Authority had called to tell me that
**I HAD WON**
- and my prize was a pair of beautiful earrings from Charlyne's Creations. Aren't they beautiful?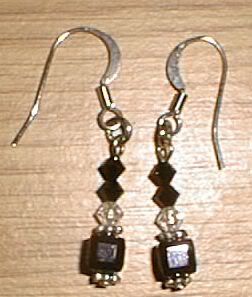 Saturday's garage sales were disappointing, but the "haul" from Friday was pretty good. Last night I frogged the red acrylic, wool & mohair sweater I picked up a few weeks ago. The black & grey sweaters from Friday's sales are already taken apart. The black one yielded 15.5 ounces of bulky weight wool and the grey, 20.25 ounces of worsted weight. They each cost me $1. Last night I also tried to start frogging the rust (or brick) colored light weight pull over from a couple weeks ago - I don't believe how thin the yarn is - it's like a couple strands of embroidery floss! It's far thinner than anything I've seen in a yarn and while I frogged and wound for 20 minutes, the ball of yarn is only a couple inches in diameter. I'm not sure if I'll be able to use it for anything, even lace. How thin is lace weight yarn anyway?
On more encouraging topics, I finished knitting buttonhole bag #3 - another purple & green creation:
Two more shawls for the K4 project are completed: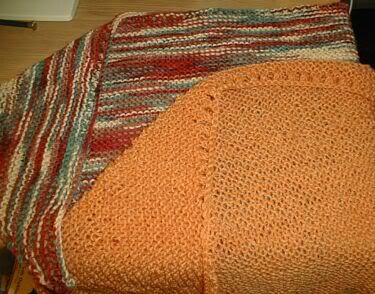 And the necklaces from last week's garage sales have joined my previous collection and are awaiting reincarnation as stitch markers.