The Rain Started At 2
But before that, the day was perfect for garage sales and the yearly subdivision one in Keatington is a humdinger. The sub is large and a lot of the families participate. We found some small things - cookbooks, a necklace - but the real finds for me were these three sweaters.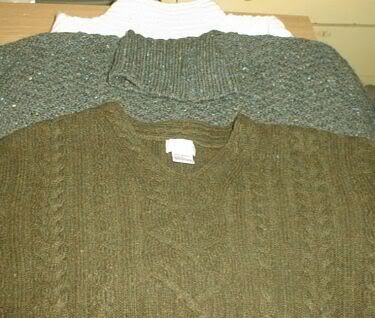 The first one is a bulky cream 90% lambswool, 10% angora in XXL. The middle one is 97% wool, 3% viscose in a dark teal with flecks of other colors which looks to be worsted weight or heavier & the one in front is 100% lambs wool in a dark green heather, probably DK weight. I've noticed when recycling, that the wool tends to look a bit heavier in the sweater than it does when it's unraveled. Total cost for these three was $5. I think at this point I have at least eight sweaters to frog, but when I run across nice ones at good prices, it's hard to turn them down. I did skip over one in a beautiful black tweed because all the seams were serged and didn't buy a 100% cashmere one for $2 because the yarn looked to be even finer than lace weight and I wasn't sure that I could get the seams out without wrecking it.
I finished unraveling the grey cotton sweater - it was really strange as it didn't have any shoulder seams and yet it didn't seem to be knit from one bottom ribbing to the other. I finally had to cut across the width of the body to get a start on frogging. Still, I got quite a bit of yarn out of it and it was only 50¢. I have a few more rows on the buttonhole bag to go and a little more on the lavender K4 shawl - I'll post photos when they're completed.