Garage Sale Mania
First of all, before I launch into my latest adventures in garage sales, I'd like to thank Tammy who left me a link to the synopsis of Wednesday's episode of Lost!
Two days of garage sales - and so many sub-division sales that there was no way that we had the time or energy to get to all of them, so we stayed in familiar territory where we knew that last year's sales were good. All in all, I spent a little less than $5 and came home with four wool sweaters for recycling and a quart size zip-lock bag full of costume jewelry necklaces with lots of beads to turn into stitch markers.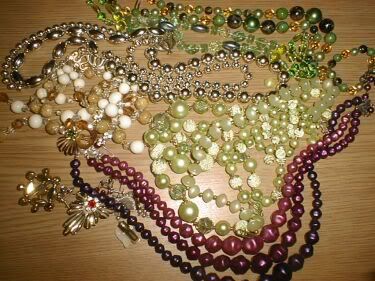 I'm not enthralled by the vivid orange stripes in this sweater but the basic color is a beautiful brown/rust/green tweed. The yarn is 91% wool & 9% acrylic, so it may not felt - I'll try a swatch before I make a bag out of it.
These are the three I found today - the one on the left is a bulky 100% wool in black that I've already started to frog so I can use it with the purple & green Lopi for more bags. The grey one may be a bit difficult with that deep V neck, but I should be able to get enough wool out of it to justify the price. And finally the one that looks blue in the photo is actually a soft lavender. Both these last two are shetland wool.
I finished the purple & green bag and gave it to my friend Pat yesterday at the K4 group. She took it home and felted it last night. I ran into her today at the grocery store and she's very happy with the way that it turned out. Pre-felted it was this size.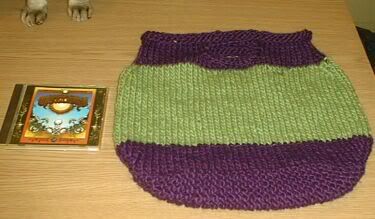 I've already started a second one with a green base - these bags are certainly addicting! We already have 24 members in the
Felted Bag KAL
and many of us have plans to make various styles of bags for Christmas gifts this year. Come on and join us!