Just When You Think It's Big Enough....
When I finished the BIG BAD BAG I took a look at it and decided that I could probably fit two or three projects in it at once.. How wrong I was! What does it take to fill the BBB to overflowing? Try a rag-tag afghan and the many balls of yarn that will go into making it. The bag is stuffed to the point that I have to watch to see that some of the balls of yarn don't fall out when I'm carrying it.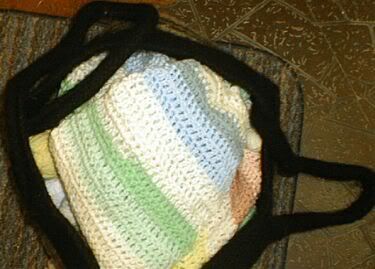 I'm seriously considering making an even larger bag..
The current rag-tag afghan is using up the small amounts of pastels & cream/white yarns that were left over from making hats and other items for the K4 charity project. It's probably a little over half finished now.
It took a bit of doing to get the above photo. As usual when I spread out anything knit or quilted to photograph, my favorite camera hound gets right in the middle of the picture.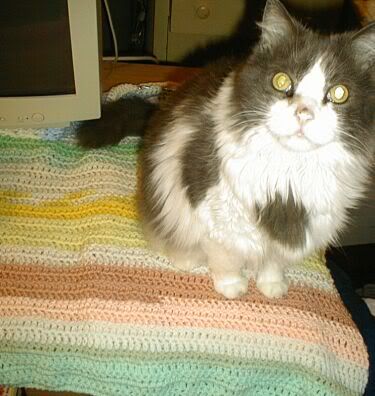 I finished running the ends in on the sweater that I'm making my grandson. As requested, I included the same fair isle pattern I tried out on the yellow hat a few weeks back. I think it may be a little big on him at first, but at age 6 he's only about a foot shorter than I am, so having more length in the sleeves and body should mean that he can wear it longer even if it's oversized now. I like the way that the cabled neck band and the cables I added to the pattern along the raglan seams came out. Next project will be a new sweater for his little sister.