Lots Of Stuff
Or maybe not too much - I'm awful at coming up with titles for posts.
I finished the latest Rag-Tag afghan for the K4 project..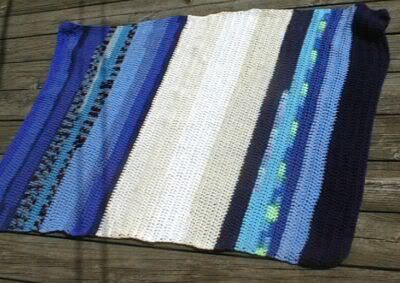 I started a similar one but with red & cranberry shades for the ends. Our K4 group has an abundance of odd mismatched skeins of cream & white, so this is a good way of using them up.
I also finished the missing ear for the bear scarf and remade the mitten tops. Originally, I think they were supposed to have bear faces on them, but 1) the pattern was missing, 2) I couldn't figure out where the face was supposed to go and 3) while the thumb was child sized, the hand above it was long enough to fit an adult. I frogged them back and finished them this way.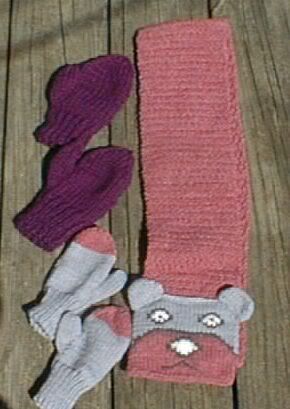 The purple mittens are another pair of child sized ones - one of the yarn donations had one mitten and the remaining skein of yarn, so I recreated the pattern by counting stitches. They're made from WoolEase Chunky and I really liked working with it. I finished the yellow shawl today and I have a pink one that was completed a couple weeks ago but still needs the yarn ends woven in. That leaves one K4 shawl on the needles - a baby blue boucle yarn on size 17 needles. And I still haven't gotten my nerve up to start the Adamas shawl.