Feather & Fan Baby Afghan
I finished the feather & fan baby afghan last night and took it out onto the deck this afternoon to get some photos. This version was done with machine washable yarn (I've managed to lose the skein band) that's about the same weight as baby yarn. I used size 11 circulars.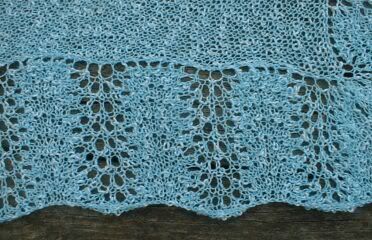 I turned in two hats and another shawl at the K4 meeting yesterday and I'm almost finished with the slate blue shawl that I started last Sunday. I still haven't felted the purple & green button-hole bag, but it's on my to-do list probably over the weekend. I want to start another bag and am trying to decide on whether to finish using the last two skeins of the purple & green Lopi or if I want to start the French Market bag, making it about half again as deep, from the teal flecked yarn. I borrowed the
Folk Bags
book from the library and I'm getting some good ideas from there. Also I was able to borrow
Folk Shawls
through the Inter-Library Loan program and I'm waiting for Meg Swansen's
A Gathering of Lace
to arrive courtesy of the same program. There are some beautiful shawls in the Folk Shawl book, but I suspect that making any of them will have to wait until I can afford to get my own copy as I wouldn't be able to complete a shawl during the three week loan period. The Simple Prairie Shawl is very similar to the ones I'm making for the nursing home, but the other lace shawls are beautiful. Another project that I want to get started on (never can have too many PIPs!)is making sweaters for the grandchildren - I found a fairly simple top down raglan pattern that's knit entirely in the round.