Tie A Yellow Ribbon.....
Ok, I don't have a yellow ribbon, but whichever of the Sweet M&M's fits into this sweater is going to stand out in a crowd. Boy, is it ever bright yellow. The pattern is a top down raglan from the
Green Mountain Spinnery Knitting Book
with a few changes. The neckband is the cabled one from the pattern, but the original version, which you can see on the right hand side of the book, uses YO, K1, YO to form the raglan increases and I didn't like that look.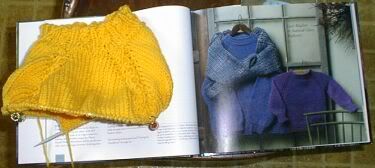 I'm using the same three stitch cable from the neckband as a design element for the "seam" and increasing on either side of the P1 stitches that set the cable off from the stockinette stitch. I'm increasing by lifting the bar between the knit & purl stitches onto the needle and knitting through the back loop, which twists the stitch and minimizes the open work effect.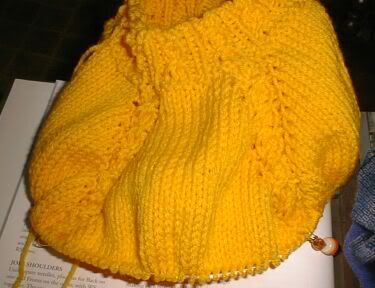 I have about twelve more rows to work before dividing for the sleeves and body. I'll be adding length to both the body & sleeves because the kids are very tall for their ages and the extra length will let the sweater be worn longer. I've tended to make things for them bigger than I expect they'll need at the moment ever since I made this rainbow jumper and jacket set for Megan and it was too small. It's the same set from an old Family Circle Needlework magazine that I made for her mother back in 1970 or 1971.