Biting The Bullet
Ok, I was wrong, it didn't take me days to get up the nerve (ambition?) to seam the sleeves of the shrug. I did it this morning while having coffee over to Mom's. The seaming went quite well. I can't say the same of trying to take photos of the completed garment. The front view that I managed in the bathroom mirror features my Cathy "Love is the answer..... Isn't it?" t-shirt more than the shrug.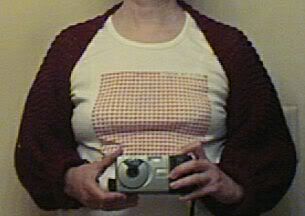 I tried to get another photo over my shoulder of the back of the shrug, but because I was aiming the camera blindly, I managed to produce about four pictures of my ear instead while missing all but one shot of the back that turned out too blurry to use. A verbal description will have to suffice. The shrug is worked on size 7 & size 15 needles. With the size 7 needles, I cast on 60 stitches using the long-tail method for the cuff and the first row is K1, *YO, K2TOG, repeat from * to last two stitches, YO, K1. Rows 2 through 5 are stockinette. Row 6: K2TOG, P2TOG across decreasing to 30 stitches. Rows 7-22, work K1, P1 rib, decreasing another stitch on the first row if there aren't an even number of stitches. Row 23: Switch to size 15 needles and increase 1 stitch in every stitch across. Continue in garter stitch for approximately 42" of garter stitch. (I made this one shorter so hopefully it will go to a rather small woman at the nursing home.) Switch back to size 7 needles, decreasing back to 30 stitches for 15 rows. Increase back to 60 and making sure that the right side of the stockinette stitch is on the same side as the first wrist, work 4 rows, work a row of 1 stitch, YO, 2 stitches together, across winding up with YO, 1 stitch. Then bind off so that the purl side of the bind off is on the right side of the wrist. Sew the sleeves up for about 12" from the wrist edge. The stitches at the wrist form a ruffle.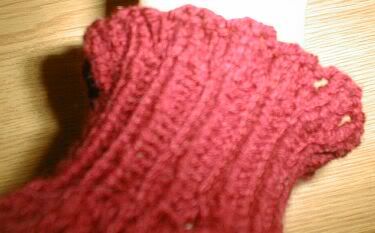 My version with a total length between cuffs of 39" took 8 ounces of worsted weight yarn. Lengthening the sleeves would require breaking into a second skein. The sleeves are full and the body is adequately wide allowing for a turn back like a shawl collar, so perhaps the body could be made narrower by 6 stitches or so to get the extra sleeve length out of an 8 ounce skein. I'm going to try that on the next one.